See just released high quality promotional videos HERE
Spares, Maintenance and Upgrades
Hegner scroll saws are made with a German tradition of design and build quality. This attention to quality includes the provision of exploded parts diagrams, maintenance tips to prolong the working life of your machine and a summary of what is likely to go wrong and the likely timing.
Given that attention is paid to routine maintenance and that spares remain available these machines have an indefinite life expectancy. The only catastrophic failure which might mean the machine is written off is a blown motor although motors in turn are replaceable.
In this sheet
Advice for preventive maintenance
A table of the components most likely to fail and their typical service life.
Upgrades available
Exploded Parts diagrams
Preventive Maintenance
Routine maintenance is largely a matter of lubrication and regular inspection for wear & tear of moving parts.
Hegner scoll saws use a sintered bush bearing on the main arm pivot points and these should be given a drop or two of oil every few weeks, more if the machine is used heavily.
The top blade clamp retaining thumb screw and post for the hold down arm (if fitted) should also be kept lubricated. A common light oil such as is sold for sewing machines is perfect.
Do NOT lubricate the arm to arm tension rod at the rear.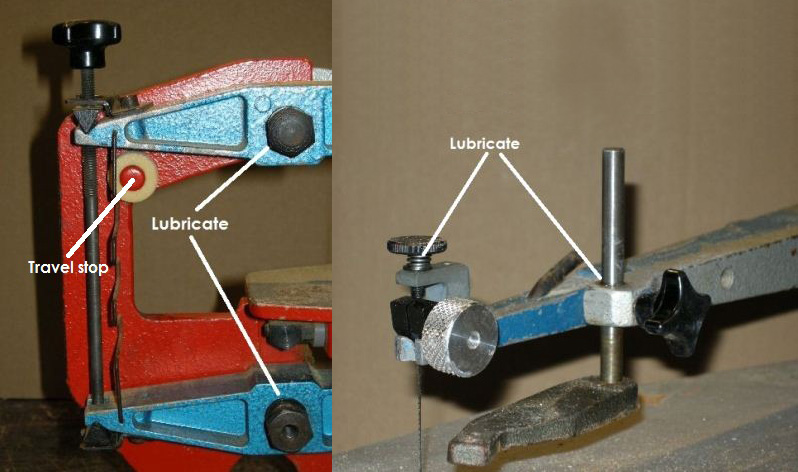 MTBF Estimates
(MTBF - mean time between failure - is an average service time for components. This is an average - the time can vary considerably. Influencing factors include duty cycle, how hard the machine is worked, regular attention to maintenance and the skill level and number of users).
We have serviced these machines for more than 20 years and our experience indicates that for more than 95% of occasions the following parts are most liable to failure due to mechanical wear & tear, environmental influences such as thinner fumes in the work area and ultra violet light, the incorrect use of longer coping saw blades or just bad luck.
Note these estimates are more or less valid for occasional users. For commercial users who have machines running many hours daily the mtbf can be halved.
What is Likely To Go Wrong & How Soon - when machine maintained well & used correctly
| | | | | |
| --- | --- | --- | --- | --- |
| Component | Part# | MTBF | Indication | Comments |
| Link & Bearing | 21 | 5~20 years | Breakage | Made from shock absorbing plastic with an intentional design life. |
| Bellows | 17 | 10~15 years | Perishes & cracks | Affected by use & work area environment especially fumes and UV. |
| Tension rod | 12 | 10~20 years | Thread strips | Affected by frequency of use & force applied in use. Do not overtighten. Flick blade when tensioning and become accustomed to the correct musical note. |
| Pivot bearings | 8 | 5~25 years | Friction wear | Slop in bearing. If regularly oiled a very long life. Can shear off if incorrect length blades used which upsets arm geometry and drives arm into limit stop. |
| Eccentric balance | 220 | 5~10 years | Works loose | Older 'dog leg' alloy version replaced by superior cast iron fly wheel version. Rarely an issue if regularly checked & tightened as necessary. |
| Motor start capacitor | n/a | 10~15 years | Dries out & melts | Affected by time & work area environment especially ambient temperature. If machine does not start when switching on switch power off immediately and mechanically depress top arm to get it off a dead start point. |
| Arm tension spring | 13 | 10~20 years | Fatigue Breakage | Affected by frequency of use. |
| Blade clamp retainer | 50 | 5~20 years | Thread strips | Affected by no oil, frequency of use & force applied in use and/or misuse. The key operational requirement is that the thumb screw be backed off while machine running. |
| Bumper rubber | 54 | 10~20 years | Breakage | Affected by frequency of use, fumes & UV. Can be damaged by arm overrun if incorrect length blades used. |
What is Likely To Go Wrong - when machine is not used correctly
| | | | |
| --- | --- | --- | --- |
| Component | Part # | Indication | Comments |
| Pivot bolts | 509 | Breakage | Caused by use of longer pinned blades which upsets arm geometry & causes arm to strike travel stop. Immediately voids warranty. |
| Motor | 19, 49, 219 | Burn out | Caused by use of longer pinned blades which upsets arm geometry & prevents machine from getting started. Motor stalls with power still switched on & burns out. Immediately voids warranty. |
Popular Upgrade Options
Please email us for upgrade options not covered here
To introduce quick arm tension release and preset re-tensioning for Multicut 1 machines made prior to 2006, the new part 12 Tension Rod (now standard issue on M1) offers cam operation rather than winding the rear thumbscrew up and down.
To introduce quick blade clamp release, particularly for doing pierced work, consider the Quick Release Blade Clamp. Standard issue on M2S and up.
To upgrade the puffer/sucker hose replace the translucent plastic hose assembly with articulated Joint Hose (standard all models after 2011). Note: Requires top arm pivot bolt version with centre drilled & tapped.
To upgrade protection for dust trumpet vacuum connection consider dust Trumpet Bracket.
To fit blade guard protection consider fitting a Blade Guard.
To upgrade blade Clamp Key
Quick Release Clamp
Part: S6845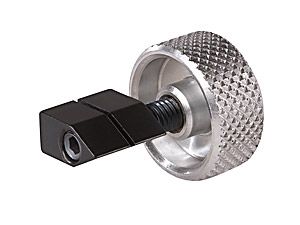 Exploded Parts Diagrams
Note that these diagrams are a little out of date. Several parts have been superseded with improved versions all of which are retrofittable. Some parts are new.
Older machines will be fitted with alluminium 'dog leg' style eccentric balance - part #220 is the replacement and is a cast iron fly wheel.
Part 12 has been upgraded to a quick release version Part 12N - now standard on M1.
Part 510 dust trumpet now has a protective bracket.
Parts 511, 512, 513, 514 and 515 have been replaced with an articulated joint hose.
The Blade clamp key is now improved and is standard issue across all machines.
Multicut 1 and 1e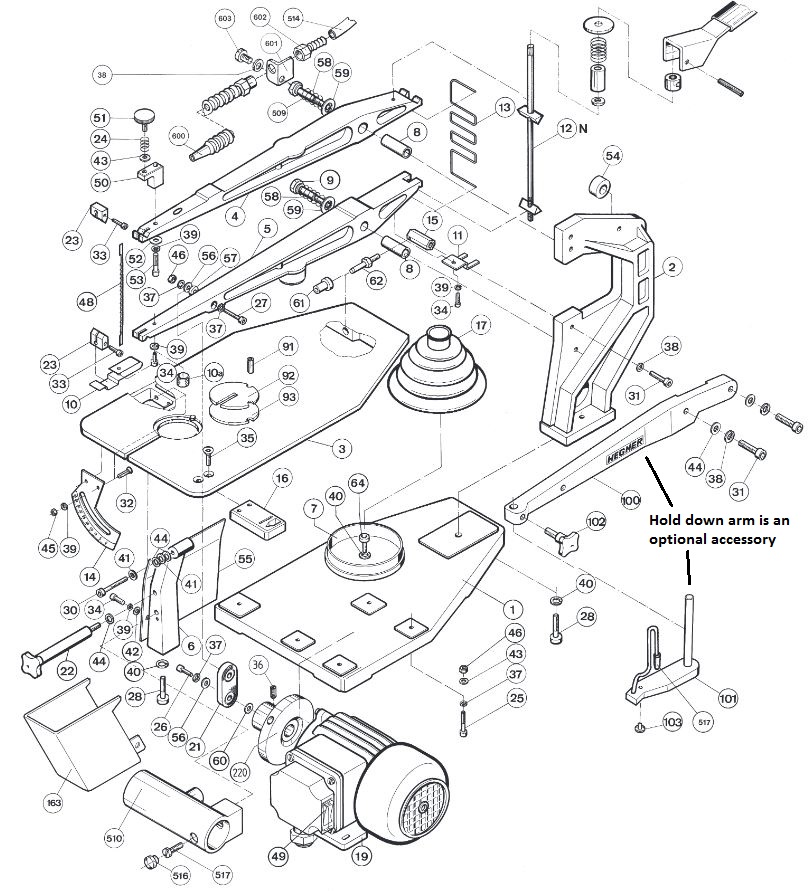 Multicut 2S and 2Se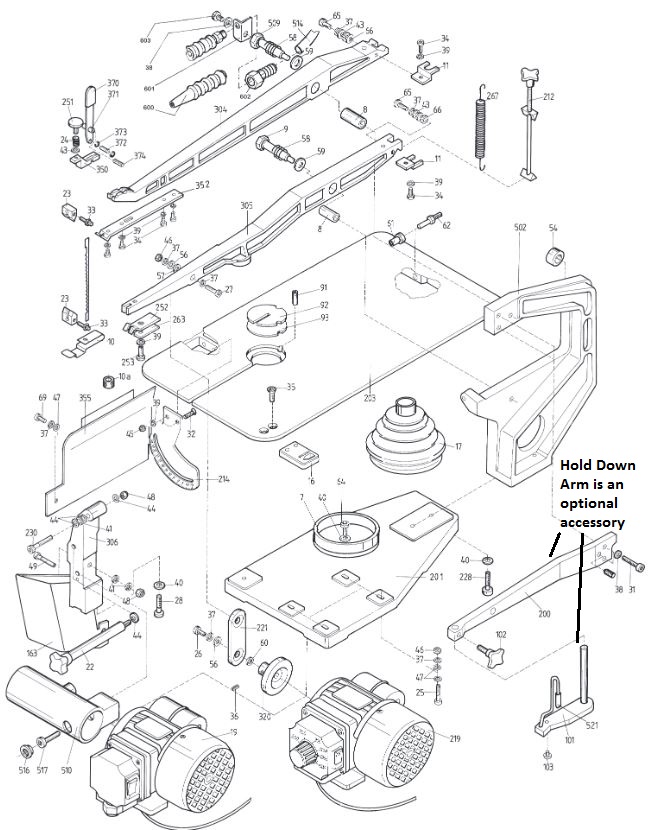 Multicut SE - as a M2S but with cast iron table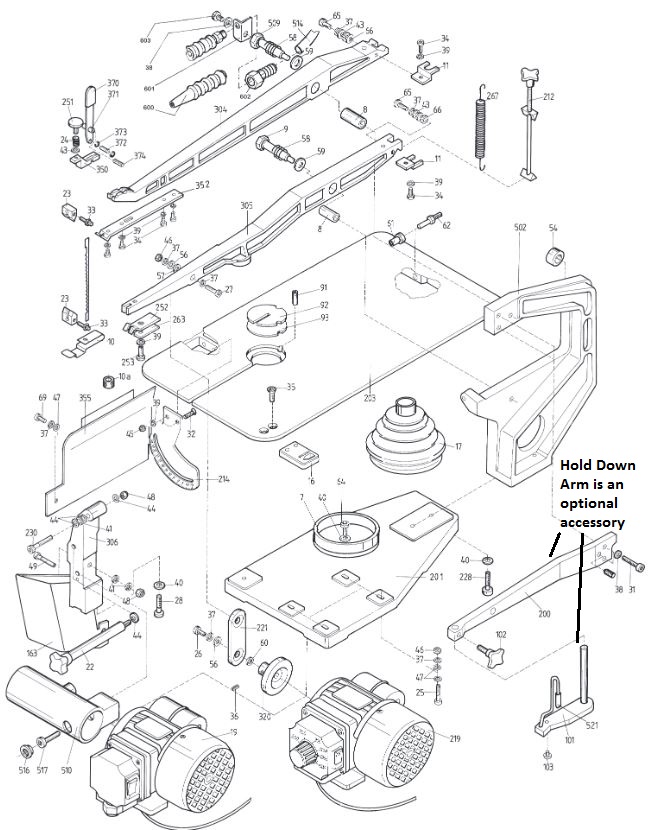 Multicut Quick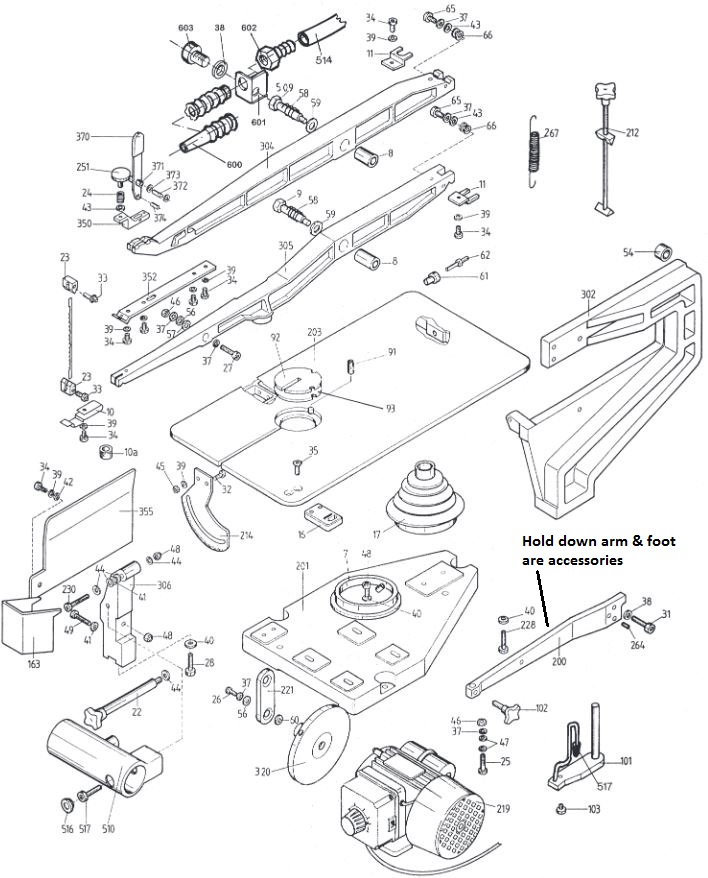 Polycut 3